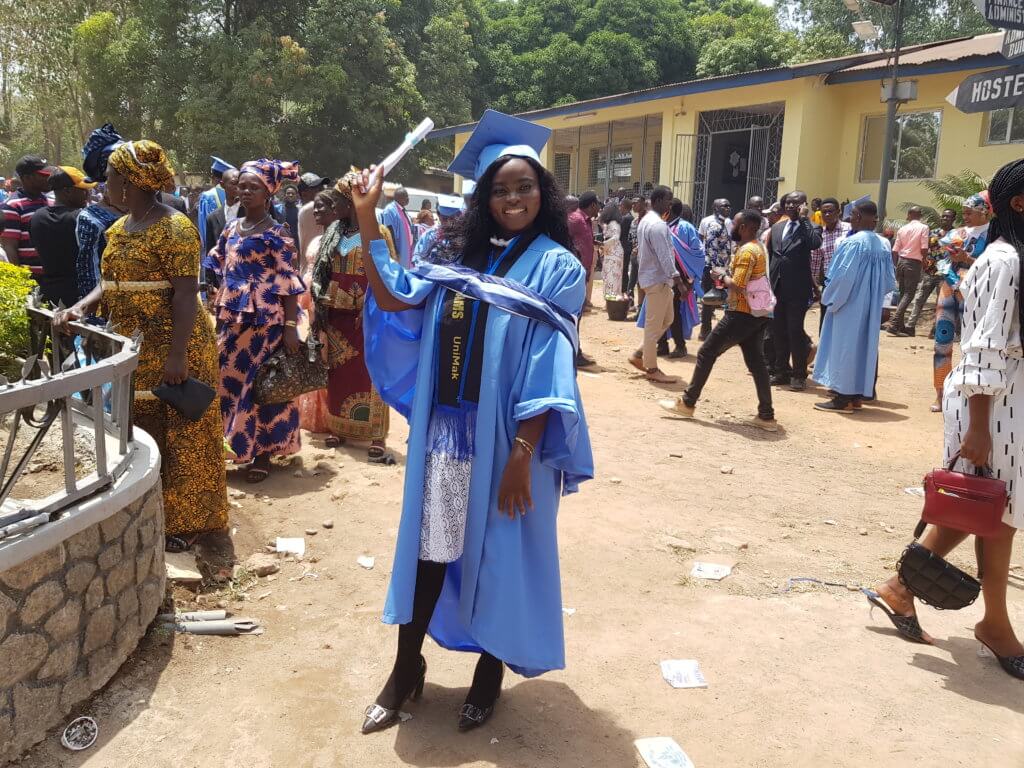 An educated woman. That's the dream of many girls in Sierra Leone. And yet, for many, the dream goes unspoken. Child marriage means early pregnancy, and those who have children are mostly barred from entering the classroom. An agrarian lifestyle means all hands needed on deck, and subsistence takes priority over education. And even if education were the priority, money is tight, and not simply in the home.
Public schools depend on government funding, and that in turn is dependent on the resources that NGOs can provide. In the most recent years, the support has been strong, thanks to global generosity and hard work. Still, private schools are far superior to public ones: schools that set a $100 CAD tuition per year turn out results far superior to schools with a $10 CAD annual tuition. And setting the question of resources aside, asking qualified teachers to stay in the Koinadugu District is difficult enough; most move out of the area for better life prospects once they can.
All this is to say that attaining an education in Sierra Leone is challenge enough for any child, let alone a girl, in a culture where sons are prioritized over daughters.
Now, consider the daughter who loses a parent – losing not only a source of emotional support but also an income-earner. "When I lost my mother, I thought my dreams [would] remain dreams," Saio* writes. "No family members [were] there to help me out [besides my father], but he too could not afford to pay my fees because of his financial position." Saio was only two years from completing her university degree, and failure to complete her courses would mean heartbreak for both her and her father.
"My father looked at me, with tears in his eyes running down his face, and said to me, 'You will complete what you have started. You are the only daughter I have that has entered university and God will not allow you to stop halfway. You will come out with your complete degree certificate.'"
Indeed, both their prayers were answered through CAUSE Canada's work, which granted Saio not only her tuition fees but also covered her living costs as well. Saio remembers well the day that she was accepted to participate. "When I got this bursary, I looked at myself and said, [now I can] be the woman I want to be."
Unlike many scholarship programs, CAUSE Canada's CAUSE Carrick Bursary Program prioritizes vulnerability as opposed to grades so the majority of girls who receive a bursary are either orphans or children with single parents who without a bursary would never go to school.
Each year, participants write a brief essay reflecting on their school year. It's in these words, that any reader can see, that describing them by their difficult circumstances alone would be erroneous. Rather, each and every participant is characterized by perseverance, determination, and plenty of hard work. One girl, Fanta*, states simply, "As a child that was raised by a single parent, I learned to take responsibilities for my [family] and myself at an early age." Nennie* writes, too, "I had the [academic] requirements, but there was no money to start the course. Thank God for this opportunity given to me."
As the bursary students see for themselves the doors that education opens, they, too, resolve to open doors for others. Take Feren*, for example. She's studying to be a development practitioner, with a priority on rural communities and their vulnerabilities. Manty*, who's nearing the end of her degree, recently finished a research project assessing factors influencing the prevalence of HIV and AIDS among women of reproductive age in Kabala. And then there's Sallary*, who's taken time outside of school to advocate with a nationwide group for the mental and physical support of girls, children, and women. Without a doubt, investing in girls is an investment in the future.
Still, for many, the immediate future is uncertain. When pandemic measures shut down schools across Sierra Leone for, the temporary closure was enough to permanently erase the hope of education from many students' lives.
In an annual essay task that all bursary students must complete, one girl in grade eight, Mariama*, writes her following reflections on the year 2020:
"The game I like best is skipping rope and balancing ball…The subjects I like best [are] home economics, physical health education and mathematics… Because of the [pandemic]… some of our colleagues have become pregnant and some have died."
Though CAUSE Canada's coordinators were happy to note that they were able to see most bursary students return to the classroom and continue with their studies, the impact of the pandemic continues. And even more than before, the reflections that were collected this year speak volumes to the hope that the program sustains. Manormoh* says, "If not for this program, I would have dropped out of school a long time ago, but this program has made it possible for me to [continue]." And similarly, Elizabeth* says, "If it wasn't for your help, I don't know how life would have been for me."
These young women are working towards attaining an education, and slowly but surely, their dreams are becoming reality.
*Names have been changed