An Update from the Executive Director
Dear Friend,
This past winter we reviewed CAUSE Canada's vision, mission, and values with the continual questions of what does CAUSE Canada do best? and what is God's vision for CAUSE Canada? at the forefront.
We agreed that partnering with rural communities to ensure the most vulnerable and marginalized people have opportunities to leave extreme poverty is foundational to CAUSE Canada. You could say, we are good listeners, and we do our best to turn this into action. It is the story of Mariatu* – walking alongside and fostering local leadership.
Mariatu comes from a single-parent family living in rural Koinadugu, Sierra Leone. Last year she graduated from university with support from donors like you.
In August, Mariatu joined our team as a project officer: a front-line leader for rural communities where adolescent girls were out-of-school. She meets with Mothers' Clubs, local leadership, and adolescent girls. Her message is, "I am one of you but because I stayed in school, I am now able to help others stay in school."
In one of the communities, the chief praised Mariatu to me. He said, "this young woman is so impressive and so dedicated to helping us. She is one of our own, but she is truly showing us what girls can do. I want all girls to stay in school."
Girls like Mariatu are why we are more focused than ever on our mission. We walk alongside people and partner with communities to help people who are most marginalized and vulnerable. Our vision is that all people everywhere are equally valued and can live free from extreme poverty. This vision is deeply rooted in our values of:
Faith: motivated and guided by our faith in Christ to love and care for the most vulnerable and marginalized people.
Dignity: believing people are worthy of being valued and respected simply because they are humans.
Equity: believing in just and fair inclusion and that everyone should have the opportunity to reach their full potential.
Impact: striving to maximize the quality of our efforts with the goal of effective, long-term, measurable, holistic transformation.
More than ever, CAUSE Canada is committed to helping the most vulnerable people and to measuring the impact to ensure long-term, sustainable change.
Thank you for helping exceptionally vulnerable and marginalized people gain opportunities to live free from extreme poverty.
With Gratitude,

Wendy Fehr
Executive Director, CAUSE Canada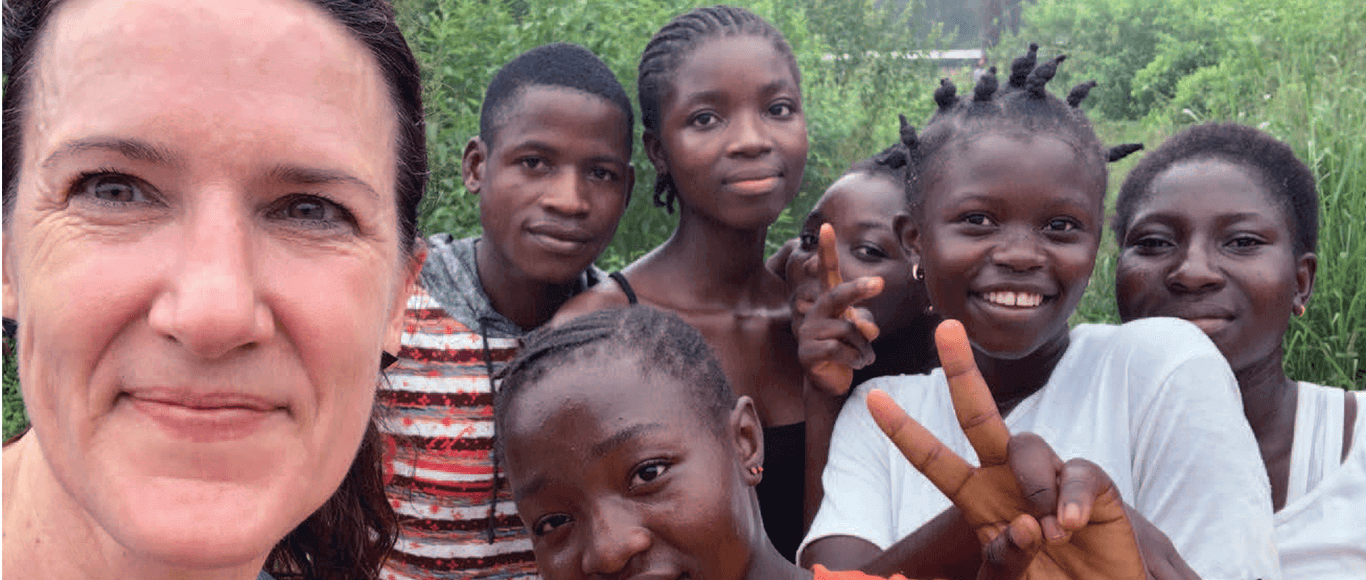 *Name has been changed
Mothers' Clubs
in Sierra Leone
The pandemic drew attention to how many children globally were out-of-school. In many places, the pandemic worsened an already weak connection that children had to attending school.  
Now, while not entirely on the other side of the pandemic, evidence is emerging that the learning losses caused by school closures has been significantly larger for low-income households, for children with disabilities and for girls.*  
Over the last few years, many of you have interceded in this crisis by supporting children, and especially girls to go back to school – thank you! Thank you for helping us seek immediate but also long-term sustainable change – partnering with community structures to create lasting change. 
In Sierra Leone, Mothers' Clubs have been a critical partner in helping adolescent girls to return to school. Mothers' Clubs are groups of women who meet regularly to help solve community challenges and support one another.  
This past year, 40 Mothers' Clubs were trained to identify adolescent girls who have dropped out of school or who are at-risk of dropping out. The Mothers' Clubs help to support and negotiate with the school and the family to help girls go to back to or stay in school.  
Thank you for your support in helping girls go back to school and for helping partner with communities to create long-term change. 
*Source: www.weforum.org/agenda/2022/01/global-education-crisis-children-students-covid19
Entrepreneurial Training
in Guatemala and Honduras
Over the last year, you have helped train 542 adolescents (481 or 89% girls) who are out of school to understand financial management and entrepreneurship. With schools open only sporadically and little hope of all adolescents returning to school when the schools fully reopen, the offer to help adolescents learn about financial management and opportunities to earn an income was met with enthusiasm in Guatemala and Honduras.  
Participants learned basic skills such as how to manage expenses and save money. An opportunity to learn vocational skills including cutting hair, making sausages, and preparing traditional weaving for sale in the market, were only a few of the vocational skills that were taught to the eager young entrepreneurs. In Guatemala, many adolescent girls earned certificates, giving them recognized credentialled skills to help them participate in the workforce long-term. 
This entrepreneurial and vocational training is taking place as part of CAUSE Canada's PODER project. The PODER project (meaning power in Spanish) aims to increase gender-equality and empower adolescent girls and young women in the rural, impoverished communities in Guatemala and Honduras.   
Thank you for your support in helping girls to have a future by staying in school or, providing alternatives to child marriage, when returning to school is not possible.
The Government of Canada matches every dollar given to the PODER project with an additional $20.50.  
In Celebration of Moms Everywhere
In May, we brought back the CAUSE Care Package project in celebration of Mother's Day. The project grew in amazing ways this year and received support from 12 Canadian, female-led businesses focused on sustainable practices.  
Our team, along with 10 volunteers, packaged and delivered over 100 care packages, sending words of encouragement and care to moms across Canada. Thanks to you, the CAUSE Care Package project raised over $10,800.00 to support mothers in Central America and West Africa.
Bring Dignity, Justice & Hope To Every Community
$100 will help CAUSE Canada respond to the most urgent needs