Dear Friend,
I hope this letter finds you well! While Calgary blossoms with flowers, rain showers are just beginning in the regions where we operate outside of Canada.
As June arrives, so does the time for reporting on activities for the past fiscal year and we are quickly approaching the season of organizational audits. It is truly an exciting time at CAUSE Canada as I read about the number of individuals who have participated in our programs this year and the effectiveness of our efforts.
With your help, we are making significant strides in empowering people to overcome poverty. It is remarkable to see the tangible impact we are making together.
I recently had the opportunity to participate in a field audit of a major project in Guatemala. The auditors were wonderful, and I was immensely impressed by the level of organization, transparency, and adherence to our contracts demonstrated by our field offices.
The auditors commented on our remarkably low administration fees and expressed their admiration for CAUSE Canada's unwavering commitment to maximizing the funds allocated to improving people's lives. While it often feels like there is never enough, I am delighted to share with you that we are continually doing our utmost to ensure that your generous contributions are honored.
I know that your support for CAUSE Canada stems from your firm belief in the transformative power of investing in girls and women living in extreme poverty. Through this Spring newsletter, I hope you will see the profound impact being made in assisting vulnerable girls and women, not only in breaking the cycle of extreme poverty for future generations but also in recognizing the inherent value they possess. Our efforts extend beyond eradicating poverty; they are grounded in the belief that every person deserves to be valued and appreciated.
Thank you for your support, thank you for making this work happen, and thank you for seeing the value of all people – especially the most vulnerable.
With Gratitude,

Wendy Fehr
Executive Director, CAUSE Canada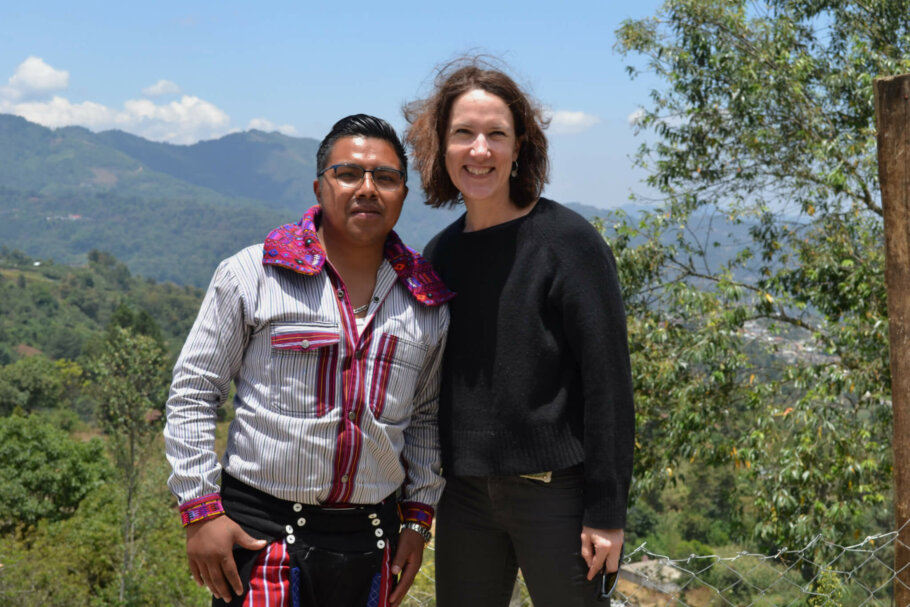 Baking A Way To Brighter Futures
Rosa*, a 19-year-old from Tuijala, Comitancillo, faced many challenges due to poverty and early motherhood. After leaving her abusive husband, she struggled to support herself and her daughter while facing judgment from the community. However, everything changed for Rosa when the PODER staff identified her as a single adolescent mother and invited her to an entrepreneurship training.
Initially hesitant, Rosa eventually joined the training after making sure she could bring her daughter along. Over several weeks, she actively participated in workshops on entrepreneurship, business skills, financial literacy, and vocational training in pastry making.
Despite the daily 30-minute walk to the training, and limited access to water in her community, Rosa consistently demonstrated her commitment by arriving on time and keeping her cooking utensils clean. Her strong dedication led her to be chosen as the team leader by her fellow participants.
Rosa never imagined she would have the opportunity for any kind of formal training, but she is grateful to receive a certificate of completion for the program. With no bakeries in her community, she sees a promising opportunity to start her own business. Having learned how to prepare nine different types of pastries, she feels empowered and hopeful about the future for her new venture and for her daughter.
In 2022-23, 5,875 women from 207 communities participated in workshops to further develop skills in business management, financial literacy, and vocational and life skills.
*Name has been changed
A Message From Princess In Sierra Leone
"Princess Kumba is my name. I am 19 years old and attend medical school at the College of Medicine and Allied Health Sciences in Freetown, Sierra Leone. My hobbies are reading, singing, and praising God.
I want to take this opportunity to thank CAUSE Canada and supporters on behalf of myself and my entire family. You have been a really great help to us considering the tough time the whole country is going through. I don't know if the continuation of my education would have been possible otherwise, but I thank God for you.
I pray the grace of God meets and enriches you all as we hope for the continuation of this great program. From my heart to yours, thank you very much!"
Princess is a participant in the CAUSE Carrick Bursary Program, which enables girls who would never be able to attend junior high because of poverty and other major barriers, to stay in school until they complete university.
Over the last year, Sierra Leone has experienced unparalleled inflation – with the costs of basic items rising over 35% and the value of the local currency falling to less than half its value one year ago. With rising malnutrition and other difficulties, last summer, mothers across the country began a protest that resulted in widespread demonstrations and then to violence, resulting in at least 26 people dying.
Thank you for supporting CAUSE Canada's work in Sierra Leone. Because of you, our teams continue to walk alongside those who are the most vulnerable.
The 3rd Annual CAUSE Care Package Project
This past Mother's Day, the CAUSE Care Package Project returned featuring goods from 6 Canadian, female-led businesses and micro-businesses in rural Guatemala. Each package was filled to the brim with thoughtful treats and 100% of funds raised supported female-led micro-businesses in Guatemala to receive vocational and business training.
We were encouraged to see messages of love and care sent to your favorite women across Canada. What a wonderful way to celebrate moms everywhere!
If you know a female small business owner we should consider featuring in the future, we'd love to hear about them! Send our team an email at info@cause.ca to connect.
We are thrilled to share with you that in April, CAUSE Canada's work to end child marriage in Sierra Leone was highlighted by Global Affairs Canada in their report to Parliament!
In 2021-2022, CAUSE Canada and CAUSE Canada Sierra Leone educated men seeking child brides about the negative consequences of child marriage, trained community leaders, empowered advocates and organized community events. Data was collected on the number of marriages prevented compared to the marriages that took place despite the intervention. The results indicate that 127 child marriages were cancelled in the Koinadugu and Falaba Districts in Sierra Leone's Northern Province. In fact, child marriages in the target regions were reduced by between 92% and 95% as a result of the project.
Want to know more about Canada's impact on ending global poverty? You can find with the full report at www.international.gc.ca.
Bring Dignity, Justice & Hope To Every Community
$100 will help CAUSE Canada respond to the most urgent needs