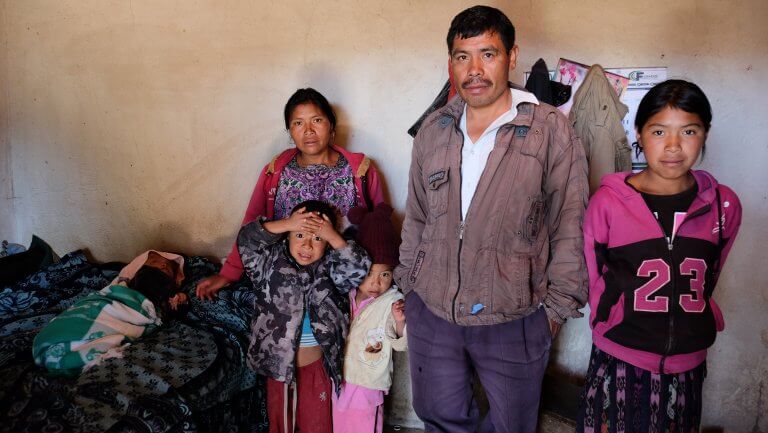 As most Guatemalan women from rural communities, Rosa* from the village of Rio Hondo gave birth at home, assisted by a traditional midwife. Her baby boy, Carlos*, was born strong and healthy. When Carlos turned one month, Rosa brought him to the village health center for his first check-up. Manolo, a CAUSE Guatemala nurse, quickly noticed that Carlos' face was swollen and referred the baby to the city hospital in San Marcos, about 16 km away, for further examination. With no money for the bus ticket and scared of leaving the village, Rosa decided to return home instead.
However, Carlos' condition was deteriorating. He was constantly crying and could not move his hands or feet. After many home visits, CAUSE Guatemala nurses finally convinced Rosa and her husband to take the baby to the city hospital. In coordination with the Ministry of Health, CAUSE Guatemala transported the family to San Marcos, where Carlos underwent an MRI and was diagnosed with hydrocephalus, a serious condition in which cerebrospinal fluid collects in the brain. Since the condition can cause mental impairment and even death if left untreated, the doctors recommended urgent surgery at a better-equipped regional hospital. CAUSE Guatemala transported the family to the neighbouring department, where skilled neurosurgeons successfully drained the fluid from Carlos' brain.
Carlos is now recovering at home: the swelling is gone, and he can now move his hands and feet. Rosa is sure that her precious baby boy would be dead today if it hadn't been for CAUSE Guatemala's help: the nurses' great medical care and the program's financial support for hospital exams and transportation. CAUSE Guatemala health personnel continue visiting the family and monitoring Carlos' journey to a full recovery.
Rosa's miracle is one of CAUSE Canada's many success stories in Guatemala, Honduras, and Sierra Leone. Because of your generous support, CAUSE Canada's teams can continue helping those in great need and supporting them through life's most difficult challenges. We invite you to learn more about CAUSE Canada's work.
*Names have been changed