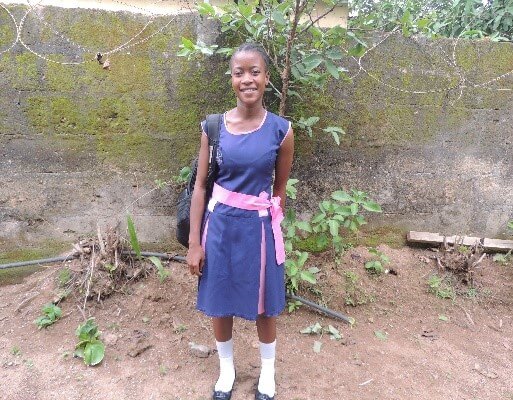 Kadie* was in grade 11 when she became a CAUSE Carrick Bursary Program student in 2017. She is an incredibly bright and hardworking student at the top of her class.
Kadie is the youngest in her family and has two older brothers. She was raised by a single mother who works in the farming industry to support her family and children's education. When Kadie was in the 6th grade, she dropped out of school as her mother was no longer able to pay her school fees.
Kadie's teacher quickly noticed her absence from the classroom and after seeing her family's struggle, decided to help support Kadie to continue schooling. Kadie went on to secondary school and by the 9th grade, she had become the top student in the entire Koinadudu district.  
Shortly after, Kadie's teacher became very ill and due to the lack of support Kadie realized that she may no longer be able to continue her schooling. When she heard about the CAUSE Carrick Bursary Program she sent in her story explaining why she was in need of assistance to continue her education. Kadie was accepted into the program and continued onto Senior High School. She is now completing the 12th grade and excelling in all areas, especially science. Kadie hopes to one day become a medical doctor.
About the CAUSE Carrick Bursary Program
The CAUSE Carrick Bursary Program started in 2008 in Sierra Leone with 5 students in Junior and Senior Secondary Schools. The goal of the program is to help support motivated young girls who do not have the opportunity to attend University and help them become role models in their communities. Many of the girls are orphans or from single parent families living in rural communities and would never otherwise have an opportunity to go to school. The program is now supporting 100 girls to continue their education from Junior High School through University. 
*Please note that the name has been changed
Want to support other students like Kadie? Connect with us to learn more or make a online donation!