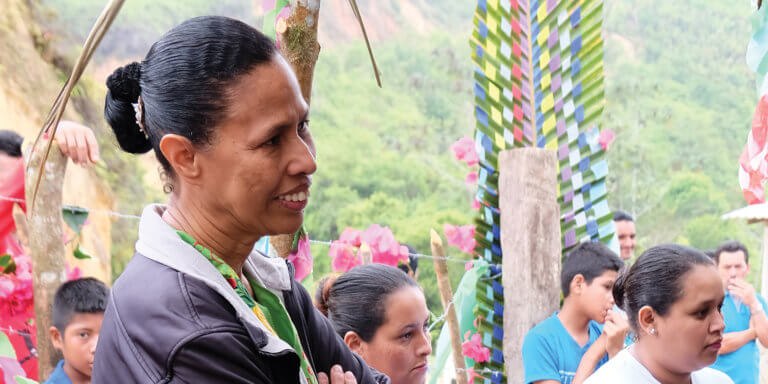 On March 28, we look forward to welcoming Rita Romero, CAUSE Canada's Gender Advisor from Quimistán, Honduras to speak at our 15th annual Gala fundraiser. At the Gala, Rita will be speaking about the challenges of being a girl and going to school in rural Honduras.
In preparation for Rita's visit, we asked Rita to share a little bit about her work.
Rita Romero, CAUSE Canada's Gender Advisor
Quimistán, Honduras
Tell us about yourself.
I am a lawyer with extensive work experience in the area of Human Rights. Originally from Tegucigalpa, Honduras this is where I studied and completed my schooling. I became a teacher for girls in the 80's and taught topics centered around vulnerable women, this is how I started to become involved in Human Rights.
What is it like living in rural Honduras?
From my personal perspective life in rural Honduras has two faces. The first face is a very beautiful one as the country is so rich in nature and individuals are able to cherish this every day. The other face of life in rural Honduras is one full of conflict due to the number of issues surrounding essential services for individuals and a lack of human rights.
What do you think is the number one challenge of girls living in rural Honduras?
The biggest challenge is the lack of educational opportunity and development. CAUSE Canada has worked with women in the Maternal Newborn Child Health program and the biggest barrier that we would encounter here is women not being able to read or write. Basic education should be accessible to all. More than 80% of women that CAUSE Canada has worked with were women that were no older than 16 to 30 years old,  with an average of 3 children. There is a social image that women are meant to get married and raise children, these women focus on this social image and have no access to education.
If you could change one thing about the world, what would it be?
If I could change one thing in the world, it would be for everyone to have equal access to opportunities. The hardest thing about life are privileges that others have no access to. 
What progress have you seen in the time you have been working with CAUSE Canada, in terms of gender equality and human rights?
The most beautiful and impactful thing that a woman has ever said was during the inauguration of a community center. She said "now we know that we have worth". CAUSE Canada helps women to organize themselves in their communities in order for them to work alongside organizations led by men to offer health related services to their communities. In the last few months of CAUSE Canada's Maternal and Newborn Child Health program, women have inaugurated their businesses and this has been truly beautiful to witness.
What brings you the most joy in your work?
What brings the most joy to my work is hearing that women know that they are worth something. It does not matter if you are missing a lot of things in your life, as long as an individual knows their self worth, doors and opportunities will present themselves.
What inspires you to do the work you do each day?

 
What inspires me to work is the idea that the world that we have created is not the world that God would have wanted for us. The things which we have experienced in life show us that it is worthwhile to keep trying to fight for a better world.